How to enable or disable the dark mode in a Windows 10 PC?
This is a system configuration tutorial on how to enable the dark mode in Windows 10 ? Indeed, Windows allows you to customise and activate many elements such as the colour mode, light or dark, desktops, or even the taskbar and its widgets.
In this multi-part tutorial we explain how to enable or disable the dark theme, i.e. how to switch from light to dark and vice versa. And also how to manage multiple desktops with shortcuts. All available options are generally accessible without writing complex code or scripts, directly from the different settings and configuration menus.
1. Why customise a Windows PC with dark colours ?
The options for customising a PC allow you to rest your eyes with dark colours, for example. This is especially useful for people who spend most of the working day in front of a PC, such as computer developers or accountants. A dark theme also saves energy because large parts of the screen are switched off. Black consumes less electricity than white on a desktop or laptop screen.
2. How to enable the dark mode in Windows 10 ?
Follow a few simple steps to enable Windows 10 dark mode instead of light mode on a PC with a Microsoft operating system.
2.1 Open the Windows Settings
To enable the Windows 10 dark theme, open the general Windows settings to access the customisation menus.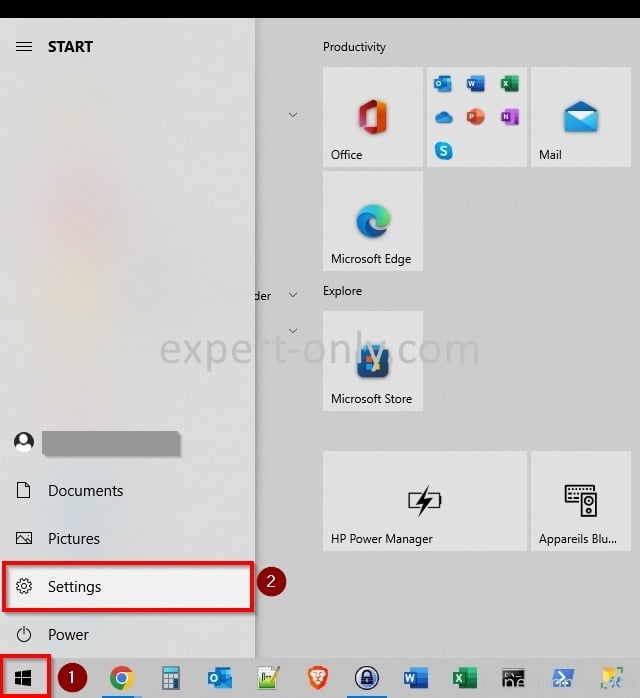 2.2 Choose the Personalisation menu
Next, open the Personalisation menu with Background, Lock Screen, Colours options to access the colour and dark theme options.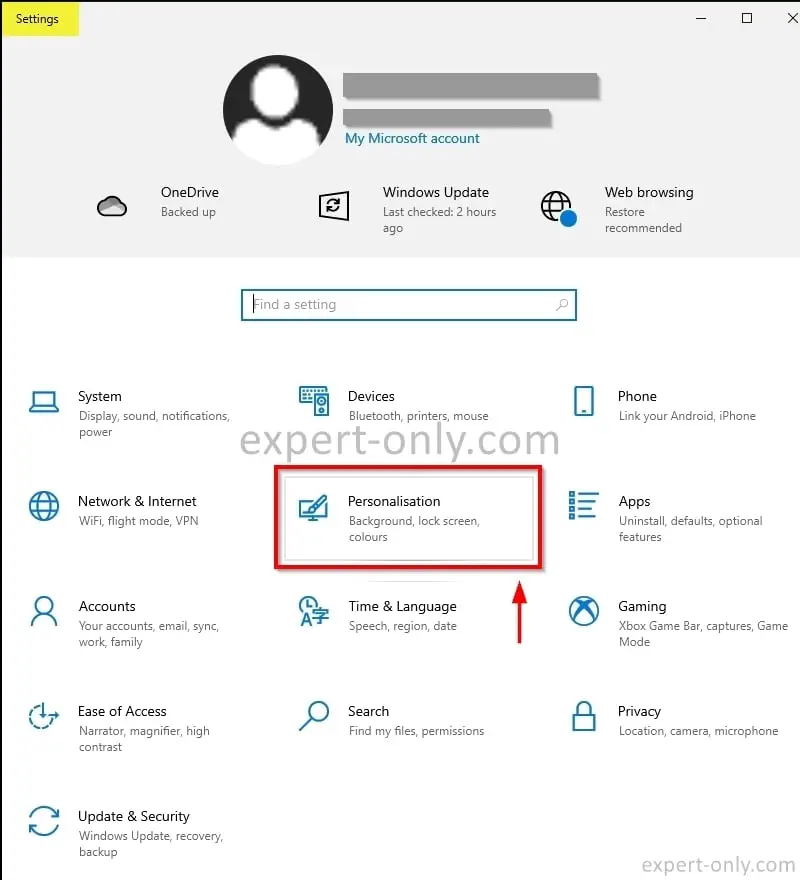 2.3 Enable Windows dark colours
In the Personalisation menu, to switch from light to dark colours, follow these 2 steps:
Click on the Colours tab.
In the Choose your colour drop-down list, choose the Dark colour.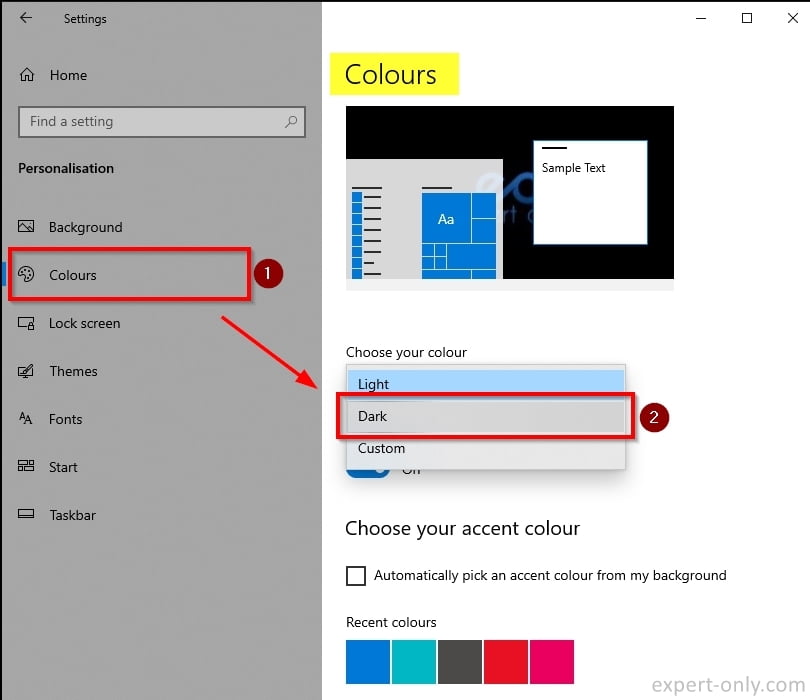 That's it, the Windows 10 dark mode is active now. The PC's colours and theme instantly change from light to dark.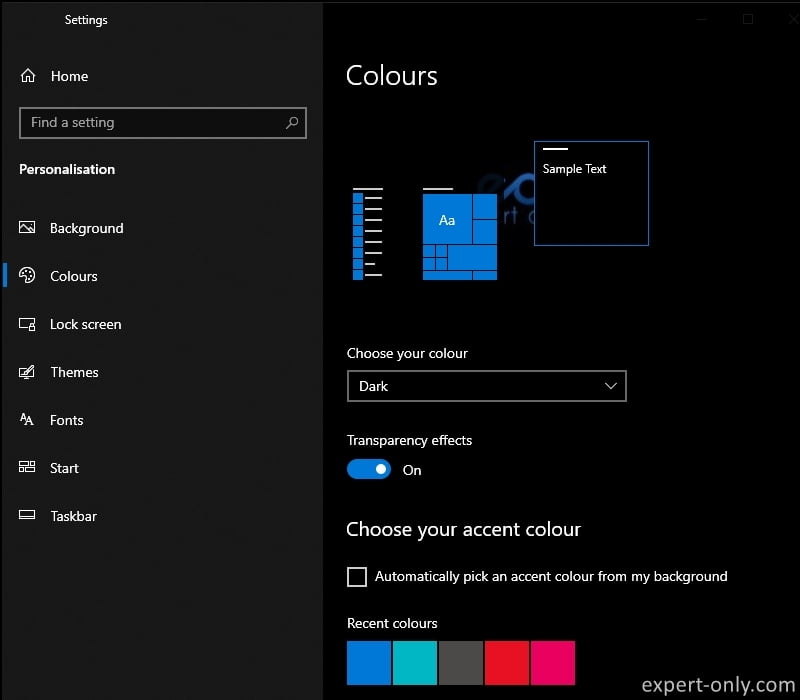 Once enabled, the dark colour is applied to all the windows, such as Windows Explorer.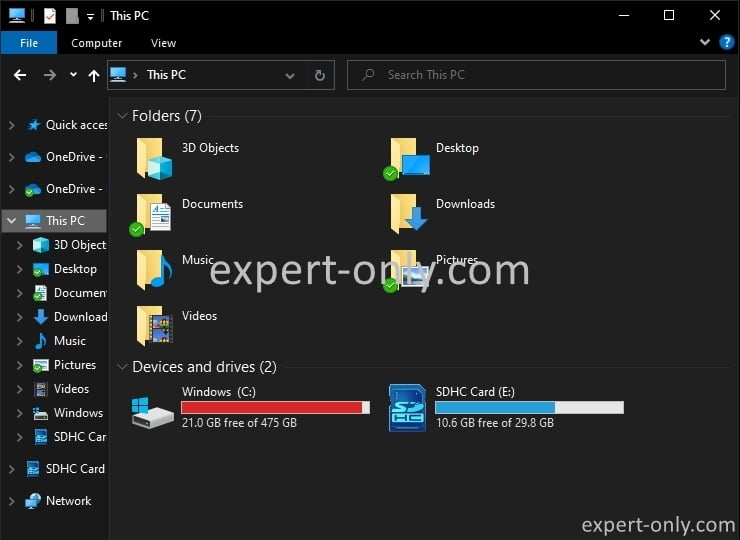 3. How to disable the dark mode in Windows 10 ?
To deactivate the dark mode and switch to light mode, simply change the colour in step 2.3 and choose Light in the colour list. The Windows display becomes light again, using the light mode and the light colours.
To wrap up this MS tutorial explains step by step how to activate the dark mode from the Windows 10 settings. It is quick as long as you select the right option in the right menu.
Tutorials about Windows 10 configuration and MS-DOS scripting