How to create and open a new Excel workbook? What is the Excel spreadsheet? Excel is a software from the Microsoft Office suite. An Excel file is also called an Excel workbook. Like a traditional physical workbook, it consists of sheets but also tables and cells.
First of all, the Excel sheets are actually tabs. Tables and lists can be created. These tables and lists consist of cells. Tables allow you to calculate statistics, to search in other tables or other Excel files. And also to analyse data with pivot tables. Note that the Excel software is a very important tool for business activities.
How to create and open a new workbook file in Excel?
Indeed, a Microsoft Excel cell is the basic element of Excel, and contains a hard value or a formula. The Excel hierarchy can be formalised as follows, from largest to smallest. Or from container to content:
First, the Excel file (or workbook)
Excel sheet
Excel table
Last is the Excel cell, that contains formulas
The first solution to create and open an Excel or XLSX workbook is from the Windows Explorer
To do this, open Windows Explorer, with the shortcut Windows + E for example.
Then select the destination folder, here it is C:\work
Right-click.
Choose New
Then select Microsoft Excel Worksheet
Then press Enter, by default the Excel file is called "New Microsoft Excel Worksheet.xlsx".
Finally, double-click on the file to open it in Excel.
Here are the steps to follow in image to create the Excel file from the Windows explorer: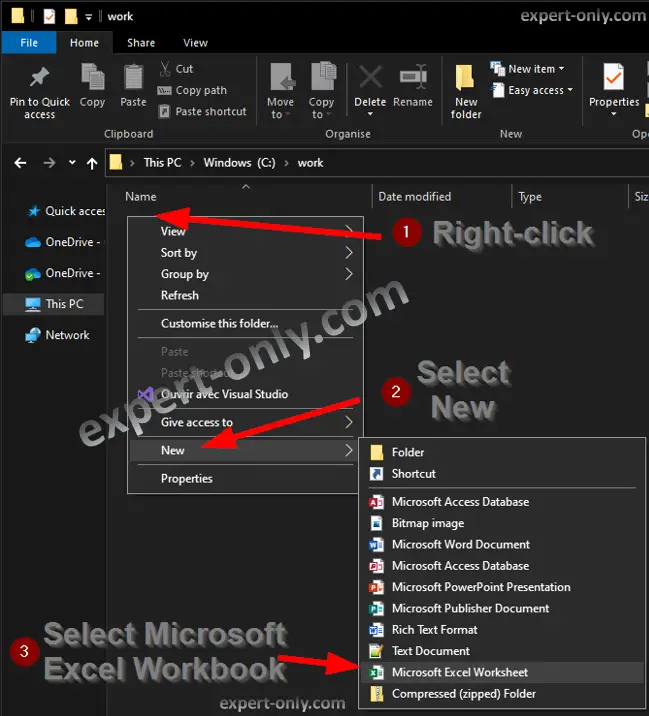 The second solution to create an Excel file is use directly the workbook menu
Indeed, for this second simple and classic method, here is the procedure to follow :
Open Excel from the Windows menu, under the letter E
Click on File at the top left.
Then choose New
And finally select the Blank Workbook option

Finally, to go further and learn more Excel tips and tricks, here are the shortcuts for selecting cells in Excel.